Cold cereal is not the vibe anymore when it comes to breakfast. If you are stuck in that rut; I encourage you to venture out to some local breakfast spots and try some epic tastes! Garland is blessed with a plethora of excellent breakfast spots; from basic eggs and bacon to elaborate Swiss chard and avocado-based plates. If you have decided to eat a healthy breakfast or live vicariously and eat what you desire; Garland has an option for you!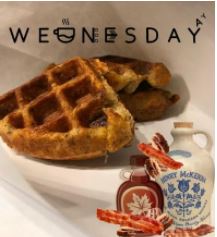 If it is waffles that you are craving, then you need to hit up 5th Avenue Nutrition on Waffle Wednesday! They have a waffle they feature on Wednesday that is aptly named the 'Bacon Maple Bourbon Pecan' waffle. This waffle tastes fantastic and is still healthy for you! Not only does it taste fantastic; it is protein-packed, free of gluten and sugar, but also it is Keto friendly.  
It is critical to advise that this taqueria starts at the beginning of every day making fresh corn tortillas! The fresas con crema may not be the healthiest item on the menu, but it is made with the freshest and juiciest strawberries imaginable! Let's talk tacos for a second, shall we?! They offer tacos on their fresh corn tortillas made of lengua, tripa, cabeza, and suadero. Not to mention the large fruit cups with grapes or cucumbers; nothing but the best and freshest fruit for Garland! 
If waking up early and feeding your belly is not for you, then brunch might be a better option. If it is then there is only one place to go: TLC on the Lake! They offer a three-egg veggie omelet that will force you to second guess why you ever ate anywhere else. It has spinach, mushrooms, pico de gallo, green peppers, and onions; topped with melted cheddar cheese and coupled with freshly fried hash browns. If it is meat you want in your breakfast, they have you covered there too! They offer ham and eggs, pork chops and eggs, and chicken fried steak and eggs. 
Remember, we are always open to opportunities to visit our local eateries.
If there is a spot that you recommend or a spot you want us to review for you; send it to me! 
We are all about supporting local Garland Foodies!
Until Next Time Fellow Foodies:
Kristina